Rude Mechs presents She Was Born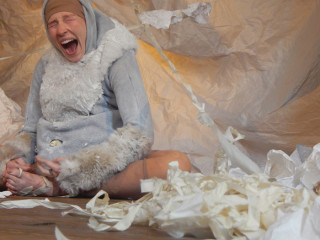 Rude Mechs and Nat & Veronica will present She Was Born, an original play. Meet SHE. SHE is a bug. SHE is alone. SHE is a parthenogenetically reproducing invertebrate. And SHE wants to know why she is here.
In Nat & Veronica's She Was Born a group of only 20 audience members is invited into a giant paper pod to bear witness to the full life-cycle of this imaginary extraterrestrial insect. She Was Born explores motherhood, mortality and the idea that, biologically speaking, reproduction is the sole purpose of existence. It's a story both completely alien and strangely familiar; after all, everything that ever lived was born.