Weird City Theatre presents House on Haunted Hill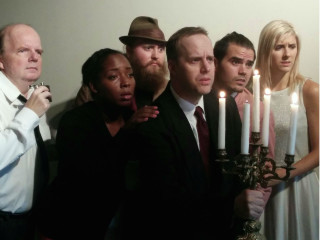 Weird City Theatre Company will present House on Haunted Hill, adapted from director William Castle's 1959 Vincent Price thriller. A nurse will be on hand each night to care for those who faint from terror and guests are encouraged to sign up for life insurance in case they die of fright.
The party begins when eccentric millionaire Frederick Loren brings together five strangers with the promise of $10,000 if they stay the night in his haunted house, but soon these skeptics are all trapped with ghosts and a very real murderer in the House on Haunted Hill. This chill-filled production, adapted by WCT company member Robert L. Berry, combines elements of Castle's films and his frightening gimmicks. House on Haunted Hill marks Weird City Theatre's own resurrection after a three year hiatus.