Killen's Barbecue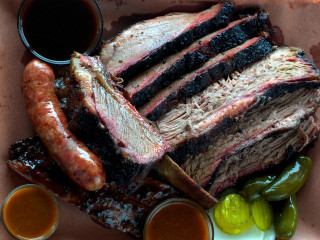 Once upon a time, Ronnie Killen was known for serving great steaks and feeding the Houston Texans top-ranked defense. How quickly things change! Although Killen still serves great steaks, he's also earned a reputation as one of Houston's top pitmasters thanks to his barbecue joint in a building that once housed the Pearland ISD school cafeteria.
The entire menu is solid, but the brisket, beef ribs and homemade sausage are particularly essential. Killen brings a chef's touch to the sides, which include creamed corn and a vinegar-based coleslaw that has plenty of tartness and snap. Even the desserts are worth ordering.
In the unlikely event that one is capable of standing in line (hour plus waits are typical on weekends) without ordering barbecue, the restaurant also serves weekly specials that include fried chicken on Sundays, chicken fried steak on Tuesdays and prime rib on Fridays. Go with a group and share for the best experience.
Please note: the listed closing time is approximate. Once the restaurant sells out of meat — that's it until tomorrow.