Austin Books and Comics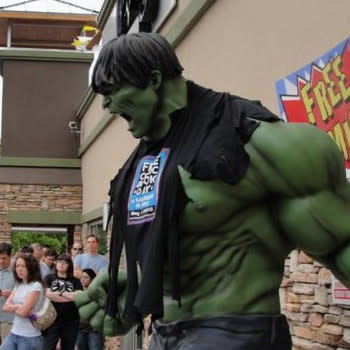 A giant statue of a raging Hulk greets you when you walk through the door, welcoming you to Austin Books and Comics. Inside, comic books, graphic novels, and manga cover every inch of wall space, with action figures, clothes and fun novelty items on display shelves and behind counters. The book shelves are organized by creator, company or genre, making it easy to find what you're looking for, if you still can't find it, the staff at ABC is extremely knowledgeable and friendly. What really sets Austin Books and Comics apart from other comic stores is their catalogue of back issues, while stores usually keep comics for 6 months to a year, ABC keeps them forever. You can always count on them to have it in the store, but if you want to make sure you never miss a copy of your favorite comic, you can sign up for the pull list and they'll separate the comics of your choice and have them ready for pick up every week.
Austin Books and Comics host events, signings and video game launch parties, for information on everything that's going on sign up for their email list or friend them on Facebook.