Julian Sands in A Celebration of Harold Pinter
All events are subject to change due to weather or other concerns. Please check with the venue or organization to ensure an event is taking place as scheduled.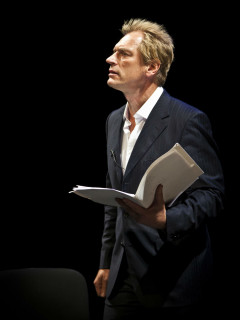 Actor Julian Sands is frequently seen worldwide in films, on stage, and on television. He trained in London at The Central School of Speech and Drama and has appeared in over 100 films, including The Killing Fields, A Room with a View, Ocean's 13 and The Girl with the Dragon Tattoo.
In 2005, Sands was approached by Nobel Prize-winning playwright and poet Harold Pinter to prepare a set of Pinter's poems for a special presentation in London. Working closely with Pinter, he was granted a rare insight into his personality, life, and work. This extraordinary collaboration evolved into a wonderfully humorous and fascinating solo show directed by John Malkovich.
This is an evening of outstanding theater with an extraordinary actor, great words, and an audience. Devoid of pretense or glittery trappings, A Celebration of Harold Pinter gets to the soul of the man - poet, playwright, husband, political activist, Nobel winner and mortal.