The Long Center presents Ballet Folklorico de Mexico de Amalia Hernandez
Many events have been canceled or postponed due to coronavirus concerns. Please check with the organization before going to any event.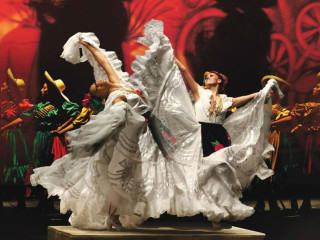 Established over six decades ago, Ballet Folklorico de Mexico de Amalia Hernandez has represented Mexico in the most renowned stages. It has been able to reach great audiences – both Mexican and foreign.

The Ballet is constituted by a large team that gathers specialists from different fields: dancers, composers, singers, costume and set designers, musicians, among others. The quality and effort of this team has earned the Ballet a number of awards in Mexico and overseas.

Folk dancer and choreographer Amalia Hernandez founded the Ballet Folklorico de Mexico in 1952. A classically trained ballet dancer, Hernandez chose to focus on native Mexican dance. Under her leadership, the company became the largest and most widely respected Mexican dance company in the world- still touring and performing over half a decade later.

In its capacity of artistic ambassador of Mexico, the Folkloric Ballet of Mexico has transmitted the Mexican 'feel' around the world. Since 1961, when the Ballet was awarded in Paris with the first prize of the Festival of Nations in the category of dance groups, it is difficult to determine precisely how many performances have taken place –both during tours and in our home theatre, the Palace of Fine Arts- and how many awards have been received.